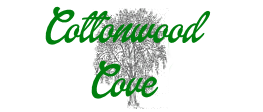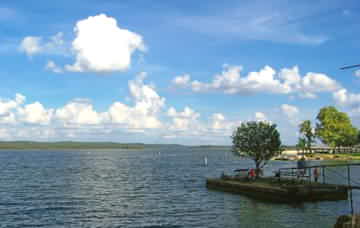 View of Beautiful Lake Buchanan
Are you thinking of getting away from the rat race for a few days and getting back to nature? Want to stay in a cabin in a peaceful rural area on the lake? Maybe you want to do a little fishing. We would like to invite you to Cottonwood Cove!


Fish from the porch of Cabin 2

In the photo above Cottonwood Cove Cabin 2 is at the right and is directly at lakeside. Cabins 4 and 5 are at the left, in one of the three coves surrounding Cottonwood Cove.

Cottonwood Cove is located at the upper end of Lake Buchanan at the point where the Colorado River forms the lake. The cabins are situated in a tranquil setting with tall trees, grassy lawns and spectacular views of moon and sun rises on the lake. Four of the cabins are bounded by the lake on three sides, giving you plenty of lake to enjoy.

Cabin 3 stands alone, remodeled with many updates and picturesque views.

Cottonwood Cove's cabins are well-equipped. Veteran Buchanan visitors will know the property as the former Bean Fishing Camp. Most were built in the 1950s and '60s by C.D. Bean, a legendary Llano County fishing guide and outdoorsman. Our cabins are older, but we maintain them well and they are diligently cleaned.

Cottonwood Cove is the last resort on the way to the very popular Fall Creek Vineyards.


Moonrise of Lake Buchanan
at Cottonwood Cove

Llano County's slogan is "Deer Capital of Texas." Other than plenty of deer you will also find, raccoons, ringtails, opossums, armadillos, skunks, coyotes, rabbits, wild sheep, wild turkeys, wild hogs, squirrels, and more in the area. And, of course Lake Buchanan is famous for fishing.


Not a bad days catch, huh?

Lake Buchanan is the best of the seven Highland Lakes for Fishing. The Highland Lakes are located in the Texas Hill Country of central Texas which is well known for its beautiful hills, trees and scenery. The Highland Lakes chain of lakes along the Colorado River start 85 miles northwest of Austin and end in Austin. Lake Buchanan is the second largest of the seven lakes. Because of Lake Buchanan's size, the lake is less crowded on a holiday weekend than urban lakes are on an average Tuesday.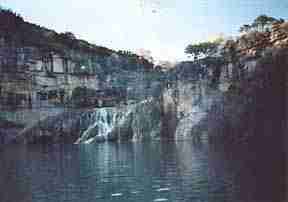 Deer Creek Falls about 3 miles upstream.
Bring your camera. You will have opportunities to take photos of wildlife and the beautiful scenery along the lake. Upstream on the Colorado River you will find nesting areas for Bald Eagles. Boaters can see a series of waterfalls, one so spectacular that it was used in Hamm's beer advertising.

Lake Buchanan is not a constant-level lake. For up-to-date information on Lake Buchananīs level, go to: LCRA River Operations Report or call Cottonwood Cove.


Air Conditioned Cabins

Covered Boat Docks (slips 10x21)

Boat Ramp

Covered Lighted Fishing Dock

Fishermen & Hunters Welcome

WE ARE NO LONGER PET FRIENDLY




Although we love animals, we cannot make accomodations for all. Call for specific details.

Cabin Rates
2 night minimum
Cabin 2
Sleeps Maximum of six.
It is on the water. Fish from the porch!
1 Queen & 2 double beds
$125 per night*
Cabin 3
Sleeps a maximum of six.
1 Queen, 1 Double Bed & Sofa Bed
$140 per night*
Duplex Cabins 4 & 5
Each cabin sleeps a maximum of four.
1 Queen, 1 Double Bed in each cabin
$100 per night*
Cabin 6
Sleeps a maximum of six. 10-ft. high ceiling.
1 Queen Bed, 1 Double Bed & Sofa Bed
$100 per night*
Duplex Cabins 7 & 8
Each cabin sleeps a maximum of four.
2 Double Beds in each cabin
$100 per night*
Cabin 9
An upstairs unit that sleeps a maximum of eight. 1 King, 2 Double
and a sofa bed, Central a/c & heat, tub/shower combination.
$150 per night*
* Plus Tax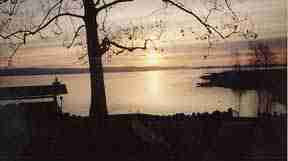 Beautiful sunrise on Lake Buchanan
Area Attractions:

View the Scenic Waterfalls

Tour Fall Creek Vineyards

Tour Longhorn Caverns

Visit antique shops, art galleries and gift shops

Take a boat cruise up the Colorado River

Golf at the area golf courses

Go for nature walks

Catch your limit of fish

Hire a Fishing Guide

Go Boating and Swimming

General Information:

All cabins are air conditioned and furnished with linens, cooking utensils, dishes, picnic table and BBQ grills. Each cabin has a full kitchen, television set, microwave oven, and an electric coffemaker. Please bring your own swim towels and plastic garbage bags.

Check-in time is after 2 p.m. and checkout is before 11 a.m. No refund for early departure.

We take pride in keeping our facility neat and clean. We appreciate the same from our guests.

All Cottonwood Cove cabins are non-smoking areas.

We accept credit cards with a 3.5% charge.

Deposits for a single cabin will be refunded if the reservation is cancelled at least 14 days ahead of arrival date and cancellation fee is $20.00. If a cancellation involves multiple cabins, Cottonwood Cove reserves the right to decide terms of any refund.

Easy driving distance from major Texas cities: 75 minutes from Austin, 95 minutes from San Antonio, less than 4 hours from Dallas, Fort Worth and Houston. See the map at the bottom of this web page.

Property descriptions are subject to lake conditions and levels
"Cottonwood Cove is a Family-Oriented Resort"
For Reservations or More Information call:
325-379-2641
"Come on out to Cottonwood Cove for a few days. Relax and enjoy this laid back country atmosphere on Lake Buchanan. Let your cares melt away. We are looking forward to your visit!"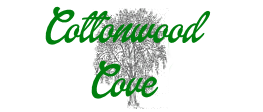 Site Map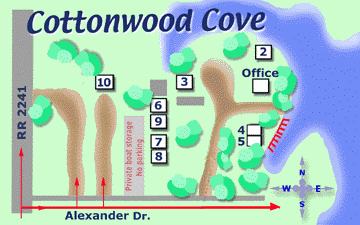 Numbered boxes show locations of the cabins
Map of the Area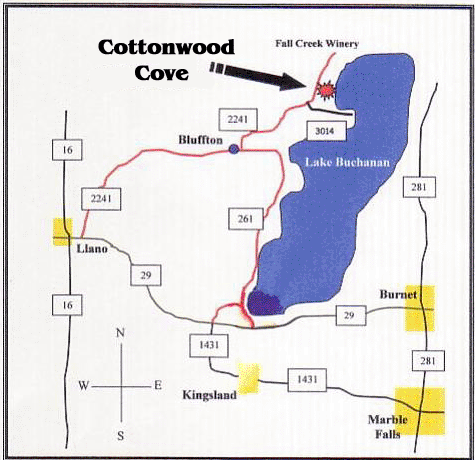 Directions to Cottonwood Cove:

From Burnet: Take Highway 29 West for about 13 miles, then bend off the right on Highway 261. Go about 8 miles to Bluffton (a convenience store). At Bluffton turn right (north) on Ranch Road 2241. Go 5.7 miles and turn right on Alexander Dr.. Cottonwood Cove is at 161 Alexander Dr.

From Llano: Take Highway 29 East for about one mile, then left on Ranch Road 2241. After about 10 miles, RR 2241 turns left (north) toward Tow. Turn left on RR 2241 at Bluffton (which is basically a convenience store). Go 5.7 miles and turn right on Alexander Dr. Cottonwood Cove is at 161 Alexander Dr.