The Official Highland Lakes Web Page Since 1996
Celebrating Great Years!
Kingsland, Texas Tourist Guide

"Where the rivers flow and the Bluebonnets grow"

With Lake LBJ and 2 rivers at Kingsland, there is a lot of great water activites to be had. Lake LBJ is normally at a constant level which provides for the best water for boating, waterskiing, jet skiing, fishing and swimming. From Kingsland you can boat up the Llano River, up the Colorado River several miles, and down Lake LBJ all the way to Horseshoe Bay, for over 20 miles.

Kingsland is an unincorporated town of about 5,600 people nestled in the Hill Country and Highland Lakes area of Central Texas about an hour northwest of Austin and an hour and a half north of San Antonio.


Sandy Beach at "The Slab"

"The Slab" is a popular place to hang out on the Llano River just upstream from Kingsland. There is plenty of sand for sunbathing, picnics, games, etc. The water is shallow and perfect for wading. It is a great place to bring the children. They love picking up the shells.


The Pat Patterson Lions Club Park in Kingsland, Texas

The Pat Patterson Lions Club Park in Kingsland has three boat docks and a boat launch on Lake LBJ. You can swim in the lake and fish at the park. It is a smaller park with a great location on Lake LBJ.


Swimming at a Neighborhood Park

You will find plenty of places to stay in Kingsland. There are rental cabins along the lake and rivers, waterfront condos for rent, lake houses for rent, motels, and waterfront RV parks.
Kingsland has restaurants and some shopping, plus many more restaurants and shops are in Marble Falls, only 12 miles away.

If you want to use a boat but do not have one, you can rent one in Kingsland.


Fishing from the Dock

They say that a picture is worth a thousand words. The photo above is the typical lifestyle in Kingsland, Texas. Just sitting on the dock, having a nice conversation, and doing a little fishing.
The homes in Kingsland along the Colorado River, the Llano River and Lake LBJ almost all have automatic boat lifts on the lake. It is fun to boat up and down the lake and the rivers looking at the nice homes and boats along the shoreline. You can also boat on down Lake LBJ to Highland Haven, Granite Shoals, Sunrise Beach, Blue Lake Estates and Horseshoe Bay looking at the homes and scenery.

Once in a while you can spot a Bald Eagle soaring over the lake looking for a meal. The sunsets are absolutely beautiful over Lake LBJ.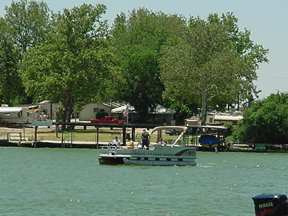 Fishing on Lake LBJ
Kingsland has a mixture of tourism and retirement. Many people from Austin, San Antonio, Houston and Dallas own weekend homes in the Highland Lakes area and come out to boat and fish when they can get the time. Many of these people retire in the area. Quite a few people from up north also retire in the Kingsland area to get away from the cold winters. Llano County, where Kingsland in located, is listed as one of the top three retirement areas in the U.S.

There are two golf courses in Kingsland: The Legends on Lake LBJ and the Lighthouse Country Club (formerly Packsaddle Country Club). The Legends on Lake LBJ is an 18 hole semi-private golf course build in 2003. The course is located off of Hwy 2342 on the southeast side of Lake LBJ. The Lighthouse Golf Course in Kingsland is open to the general public. It is located off River Oaks Drive in Kingsland.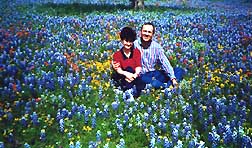 BLUEBONNETS
The photo above is a very common scene in the Kingsland area in April of each year. People come from miles around to take pictures of their loved ones posing in the fields of beautiful bluebonnets. Special tour buses even bring in tourists to photograph the flowers.
Until you have actually seen the fields of Bluebonnets in March, April and May around Kingsland, you can not imagine how beautiful they are. No description or photo can do them justice. In addition to the Bluebonnets every spring, there are also Indian Paintbrush, Indian Blanket, and several other flowers that literally cover the fields of the Highland Lakes. It is truly a paradise every spring.
This photo shows an assortment of 8 types of wildflowers that blanket the fields around Kingsland in April.

Whether you live 50 miles or 2,000 miles from Kingsland, it will be worth the trip to come see the fields of wildflowers each April. The flowers start in mid March and last into June, but April is the best month to see them.
Check out some great local Upcoming Events.
You can click on these links below to see more photos and informtion:
Bird Watching, Wildlife and Wildflowers.
ARTS & CRAFTS SHOW PHOTOS
Click above to see a series of photos of the Arts & Crafts
Show that takes place in Kingsland several times each year.
For Fishing Guides in the area - Click Here