Discover the Best Things to do in Highland Lakes
Your Personal Guide to Highland Lakes attractions, lodging, restaurants and more!
If you look at a map of Highland Lakes you'll see why it's such a popular destination for travelers. Nestled in the famed Texas Hill Country, this chain of six lakes offers endless aquatic entertainment, spectacular views and lazy days of pure relaxation.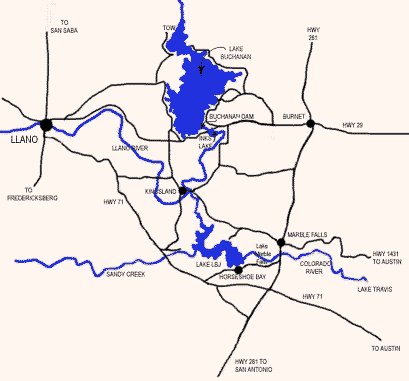 We make it easy to explore all six of the Highland Lakes in central Texas:
Lake Buchanan
Inks Lake
Lake LBJ
Lake Marble Falls
Lake Travis
Lake Austin

Our website is the largest, most comprehensive resource covering the Highland Lakes area with over 80 categories of information and over 1,000 photos of the area. You'll find information on nearby towns, local attractions, special upcoming events, lake rental houses, lodges on the lakes, real estate information and much more. We've also included information on Lady Bird Lake, which is in downtown Austin, TX.
Highland Lakes Lodging
One of the most important parts of your vacation is finding Highland Lakes lodging that is close to all of the action. Since so many people visit the area there's a huge variety of options:
RV Parks
Cabins for Rent
Lake Rental Houses
Condos
Vacation Homes for Rent
Motels
Bed & Breakfast Inns
If you're a snowbird or Winter Texan looking for a warmer place to spend the cold months, you can also find information on long-term rentals. Looking for a place to retire? The Highland Lakes area of Central Texas is one of the most popular spots for retirees.
Fun Facts About the Highland Lakes
The Highland Lakes are located in Central Texas starting about 85 miles northwest of Austin and going all the way down to the capital city.
The Highland Lakes are located in four Texas counties: Llano, Burnet, Williamson and Travis Counties.
In the spring from the middle of March through most of June the Highland Lakes area turns into a virtual paradise with the fields of wildflowers.
First, the Bluebonnets bloom, and they are quickly joined by the red Indian Paintbrush flowers for beautiful fields of red and blue.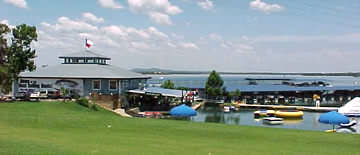 Visit the Highland Lakes Like a True Texan
Take your time exploring all the fun things to do in Highland Lakes. We regularly add information and photos that keep visitors up-to-date on what to see and do on your next Texas vacation.
Local Services
Thank you for visiting the Highland Lakes Web Page at HighlandLakes.com.

For information on this Website

Copyright © Highland Lakes Web Pages, LLC