The Official Highland Lakes Web Page Since 1996
Celebrating Great Years!

In the Highland Lakes of Central Texas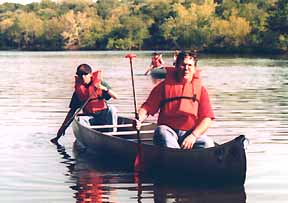 Inks Lake was formed in 1938 when contruction on the Inks Dam was completed by the Lower Colorado River Authority (LCRA). Located 55 miles northwest of Austin, Texas on Highway 29, Inks Lake is the next lake down the Colorado River from Lake Buchanan. It starts just a short distance from the base of Buchanan Dam. With a length of 4.2 miles and a width of 3,000 feet, Inks Lake is the shortest of the first four lakes but is also one of the prettiest.
The boating and water skiing are fantastic on Inks Lake. The view of the bridge that spans the lake and the view of the dam are very appealing.
Inks Lake has been stock for fishand and is well-known for its largemouth bass, white bass, catfish, crappie, and sunfish.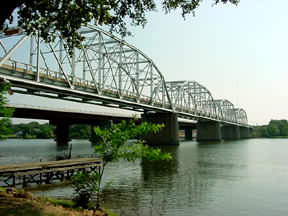 The old Inks Lake Bridge
over Inks Lake on Hwy 29
The have recently built a new 4 lane bridge going over Inks Lake which replaced the old Inks Lake Bridge. They are keeping the old bridge as a walking bridge over the lake. There will be no diving from the old bridge or fishing from the old bridge, but the views of the lake, Buchanan Dam, and boating activity are great from the old bridge. A beautiful moonlight walk on the old bridge with the gentle lake breezes makes for a great evening.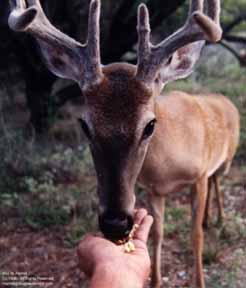 Photo by Roy M. Harrell of a Buck
eating out of his hand at Inks Lake.
Inks Lake State Park is a 1,200 acre panorama of cedar and oak woodlands bordering Inks Lake. The park offers swimming, boating, fishing, hiking, and BBQing. They have 7.5 miles of hiking trails. Bring your camera to get terrific photos of the deer, turkeys and other wildlife.
You can rent canoes, kayaks and paddleboats at the Inks Lake Park. They also have several guided tours. Inks Lake State Park is nine miles west of Burnet on Texas 29. For more information, call (512) 793-2223.
Highland Lakes Public Golf Club is a 9 Hole, Public Course, located on Inks Lake on Park Road 4 a few minutes south of Hwy 29. This course is only about a 15 minute drive from Burnet and 20 minutes from Marble Falls, Texas.
Cabin Rentals and RV Spaces
Lake Buchanan
Clancy is a Highland Lakes Fishing Guide specializing in a Striper and Catfish Fishing Guide Service on Lake Buchanan and Inks Lake in Central Texas
Lake Buchanan
WE'D LOVE TO PUT YOU ON TOP OF THE FISH. There's nothing better than reeling in your first catch of the day, and we'd love the opportunity to catch more than a few with you. We operate our boat year-round, so you don't have to wait for your catch. Lake Buchanan, TX has some of the absolute best Striped Bass fishing around, and we know just where to find 'em.
Giles Summerlin with RE/MAX of Marble Falls specializes in Lake LBJ Real Estate and Texas Hill Country Lake Living.
Planning on bringing your pets to the Highland Lakes?
Warning about harmful Algae.
A harmful algae bloom occurs when cyanobacteria, also called blue-green algae, produce toxins that can harm people and pets if they drink the lake water

For information on this Website

Copyright © Highland Lakes Web Pages, LLC