Restaurants & Local Places to Eat
Highland Lakes dining is sure to satisfy anyone's appetite. You'll find downhome comfort foods, fresh seafood, TexMex and plenty of authentic Texas barbecue.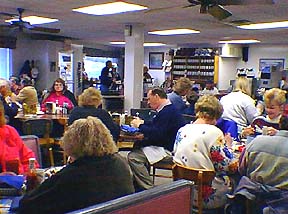 The World Famous Bluebonnet Cafe
Blue Bonnet Cafe.....Marble Falls, Texas
The Texas Highways magazine has named Blue Bonnet Cafe the best breakfast in Texas and one of the top ten restaurants in Texas. It's been in business since 1929, which makes the Blue Bonnet Cafe one of the oldest Highland Lakes restaurants. The Blue Bonnet Cafe is so well-known several famous people have stopped in for a bite..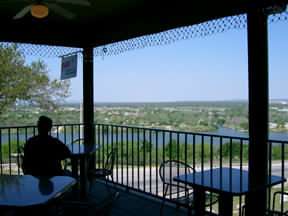 View from Russo's Texitally Cafe
Russo's Texitally Cafe.....Marble Falls, Texas
Russo's is known for "Texas fare with an Italian flair." Their distinctive cuisine evolved when they paired the wonderful herbal flavors of Mediterranean cooking with the robust, meaty tastes and textures of Texas fare. Views are also a main attraction. Russo's restaurant overlooks pristine Lake Marble Falls.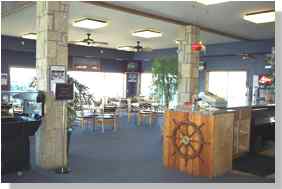 Forno's Bar & Grill
Forno's Bar & Grill.....Granite Beach, Texas
Located at the Lake LBJ Yacht Club and Marina. Enjoy a beautiful view of Lake LBJ while sitting right on the water having a fantastic plate of SEAFOOD ALFREDO or SHRIMP SCAMPI. Your dining pleasure can be inside and covered, or open air seating by the water, watching the ducks. One of the most unique dining experiences in the Hill Country. Combine a large beautiful boat showroom with 35-foot tall ceilings, big steel beams with rustic cedar ceilings and indoor or outdoor seating.

For information on this Website

Copyright © Highland Lakes Web Pages, LLC